Note: The above link will work only if you open it in Android phone browser
 گلوبل رشتہ احمدیہ ابھی زیر تعمیر ہے ۔ فون ایپ لوڈ کرنے کے لیے اوپر لنک پر کلک کریں
under construction

-- This page is still very much under construction --

-- This page is still pretty much under construction --

(This page is under construction)

Tämä sivu on vasta rakenteilla.

This place is indeed under construction

This Site Is Currently Under Major Construction




Are you getting tired of these things? On every (well, too many anyway) page you can see warnings telling that the page is not ready. (btw, this page is under construction too) At least I'm not interested in reading it everywhere. I can see it if the page isn't ready. And all pages should be under construction. That's the whole idea. If the pages were ready, we could carve them is stone and be happy.
So what do you think?






So this page is meant to all of you guys and gals who want't to tell people your page is not ready. You can add a link here and save the time. You don't have to make up excuses why your pages are not ready and why you aren't doing anything. When you direct your 'customers' here, I think the message will be quite clear.

If you haven't noticed, this World Wide Web page is under construction. Some MAJOR changes coming VERY SOON!
maybe in 1998 or 1999


This is an experimental page. I'm testing it and some links might not work!

Some of the pictures may not look right either, because this site is undergoing some renewations

But keep on trying! This page will be completed shortly. Until then, I suggest you visit this site daily

Improvements underway, sorry for the inconvenience
Pardon your electrons!

I've been a little busy lately, but there will be magnificient graphichs, stunning sounds and unbelievable smells when I have time to complete this page.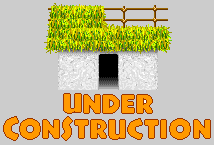 This page is being built up, but DON'T PANIC! You can return from here or maybe here
(some of the links might not work either...)
BACK TO MY MAIN PAGE
last updated on Dec 11, 2017